From College to Professional Sport: Maivon Interview with Jelena Pandzic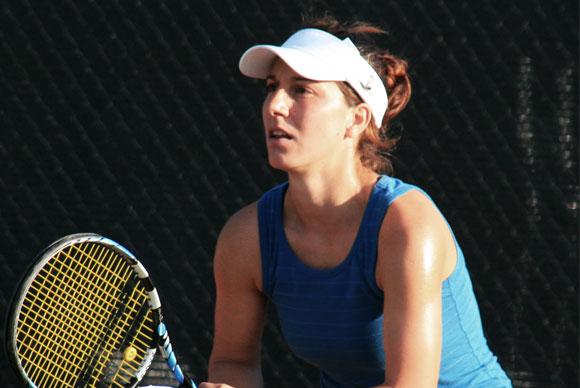 As part of a Series of interviews with athletes who made the leap from university to professional sport, we spoke to Jelena Pandzic, a former college tennis player and now a professional athlete, who recently made it to the second round at the French Open.
"With my university degree I built a second foundation for myself"

Jelena, for many years you lived and practiced in North Rhine-Westfalia in Germany, you even went to school in Leverkusen. How is your connection with Germany today?
My parents still live in Germany, and I have many friends there. I usually spend a couple months a year in Leverkusen. It is a great time for me where I get a chance to catch up with my family and old friends and also get to play some club tennis.
How old were you when you left to college to the US, and what did your friends and family think about that idea?
I was 20 when I left to the USA. Many of my friends where leaving for college in the states and I thought it would be a good opportunity for me as well. At first my parents were not too exited about the idea since it was so far away, but once they learned more about the opportunities I would have in College I had their full support.
What was your biggest challenge in college?
In my first year it was very challenging to get used to the many hours of sitting in the classroom and studying at home. I didn't have a lot of free time but I quickly got used to the fast pace and I learned to manage my time so I could get the best out of college and tennis.
What impact did the years in College have on your career today?
Through college tennis I made the leap to the WTA Tour. Back then I learned what it means to work disciplined at a professional level. With my university degree I built a second foundation for myself and today am able to fully focus on my tennis career.
What was your major in college?
My major was in psychology, I think that too helps me with my game today.
And how did you feel when you made it to the second round at the French Open just one year after you graduated?
It was an amazing feeling to play second round at the French Open. Especially because before college I was never even close to getting into qualifying at any Grand Slam (my highest ranking was around 380). And now only a year after my graduation I was playing in the second round of the main draw, and I also got to play qualifying rounds at Wimbledon, the US Open and the Australian Open.
Why are many tennis players like James Blake, the Bryan Brothers, Lisa Raymond or Jill Craybas so successful on the tour after they leave college?
Players don't just improve their tennis skills during the college years, but they also mature as a person and as a tennis players. Also, the competition in college tennis is at a very high level which helps players to get ready for the pro tour.
2008 was a great year for you, you reached a career high ranking of 139, but a serious injury forced you to take a break from tennis. Fortunately, you recovered fully in 2010 and you are starting your comeback, how is that going for you?
My comeback is going pretty well. I've been training at EagleFustar Tennis Academy in Santa Clara since February this year. I played a couple of tournaments so far this year, am training hard and working on different aspects of my game to get to the top 100.